News
From BalCCon2k15
August 31th 2015
SITUATION AWARENESS FOR JOURNALISTS- WORKSHOP - PLEASE MAKE REGISTRATION
Space is limited so please register as soon as possible!!!
Send an email with subject Situation Awareness for Journalists at jelena (at) balccon.org!!!
More info about workshop:
Modern information and communication technology has penetrated our lives today. Smartphones, tablets, computers and the Internet have become so self-evident that we rarely think about how these technologies of global networking have changed the way we work and communicate - or the risks that come with it.
The rapid global access to data and information that simplifies and enriches our work and our lives, is also our greatest vulnerability - it is now quite possible to intercept our communications on the network, to identify our user profiles, to access our computers and to tap off our data - all without us noticing.
In addition to doctors and lawyers, journalists are encouraged to assume a special duty of care for their information and data regarding sources and clients. With the use of computers and the Internet, this duty of care can not be passively exercised; the legally guaranteed protection of sources and clients no longer suffice. Journalists must actively seek protection of their communication and their data - and this usually requires external know-how to assess a situation-specific hazard correctly and to find the appropriate measures to avoid damage.
To facilitate this task, we offer a workshop specifically for the journalistic environment. In these events, the handling of the available technical protection measures are taught in addition to the necessary understanding of the dangers in the use of computers and the Internet. Our trainers have many years of experience in the field of computer security and are also familiar with the special requirements of journalistic work.
Basic Seminar "Situation Awareness for journalists"

----------------------------------------------------
This one-day seminar teaches the basic knowledge to develop a new situation awareness for dealing with computers and communications technology in journalism. The number of participants in a seminar is not limited; the implementation is usually carried out in two parts.
It gives answers to the following questions
How are confidentiality, integrity and anonymity (from sources)
threatened by the use of computer and communication technology?
What are the basic safeguards for the use of computers in the
journalistic environment?
What should I know about passwords and their use?
How do I secure my communications on the Internet (Web Browser,
Email, IM) and on the phone?
What is encryption and how do I use it?
How do I save information safe from unauthorized access?
How I recognize and avoid metadata in documents and images?
What should I specifically note in foreign missions?
How do I deal with printed information correctly?
What should I know about Social Networks?
Workshop on "handling of technical protection measures"
---
There are various workshops offered, which can be visited either individually or in combination depending on the task and operation of the editorial staff. The participants learn at their own computers and in their usual working environment how the use of technological protection measures can minimize the risks and dangers as described in the seminar.
The number of participants, should be approx 8-12 people; prior participation in the seminar is highly recommended. There will be a dedicated tutor for 4 to 6 participants.
E-mail encryption
Using TAILS as a safe working environment
Using Tor and VPN for secure Internet use
Encryption of files and disks for secure data storage
August 27th 2015
Here it is - The official BalCCon2k15 T-shirt design!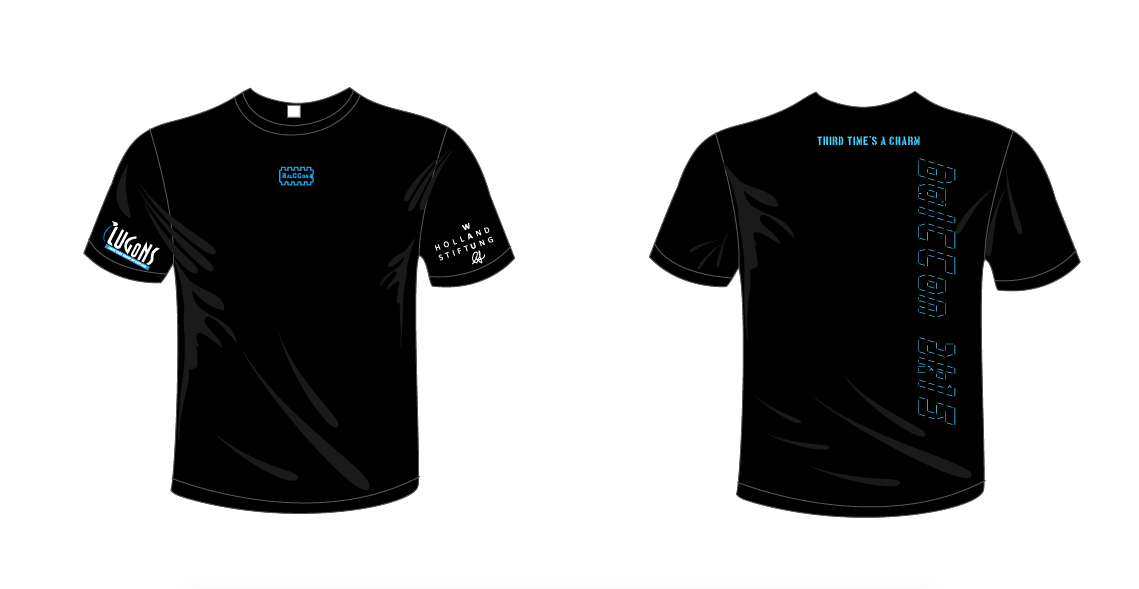 August 08th 2015
ASSEMBLY
On BalCCon2k15 we want to put also focus on groups meeting and discussing topics. For many groups it was hard to find a decent home base to discuss ideas and get new folks interested in their community. For interested hackers it became harder to find someone to talk to, as everyone was wandering around.
We have a solution for that: "Hackerspace" on BalCCon. We want to capture the camp's spirit in semi-open assemblies called "Hackerspace" ;)
So, if you are a group of hackers who like to work and hang out together, bring your toys, work on projects, have fun and let others participate in what you're doing!
How to reserve space
Please let us know what you'd like to do, how much space you'll need, what you'd like to bring with you, how much power your gear will consume, etc… Keep in mind: The more you tell us about your plans the better your chances that you'll actually get what you want.
send an email on jelena (at) balccon.org with subject BalCCon2k15 Assembly
Be aware: Only Assemblies that were added until 06st September will get an own place!
So we bring our projects and set up workshops and so on?
Yes, sharing your knowledge and showing other participants about your projects is central for everything going on at the congress. If people in your Assembly want to offer workshops or maybe lectures on a small scale, maybe there'll be enough space for you to integrate a workshop area into your Assembly. For bigger workshops there will be workshop room.
Great, we will bring ALL THE THINGS!
Be aware that the space is limited. But assemblies are invited to bring their toys and also to decorate their spot on the Congress – as long as everything you bring with you does not block exit paths and is not inflammable. These two requirements are important, and if your installations don't fulfil them, we'll be forced to remove them.
Yes, we will do some workshops!
If you would like to have small-scale workshops in your Assembly, tell us what you're planning and for how many people. Please be as specific as possible. We will probably not allocate extra workshop space for your Assembly, if you haven't published something like a schedule on your Assembly page. For now it will be sufficient to list topics and speakers, later we'd like to see a timetable as well.
How about a projector for our area?
We will not provide projectors, canvas or anything apart from chairs and tables, but probably you've got those anyway.

List of already registered assemblies
Coming soon!
August 06th 2015
Official Trailer for BalCCon2k15 is online:) Get ready for BalCCon2k15 :)
Official Trailer for BalCCon2k15
Jun 06th 2015
Three day tickets are available for pre-order
There is limited amount of tickets and will be sold on first come first served basis
You can buy or pre-order tickets on the following link:
We'll also sell tickets on site. Just show up at BalCCon2k15 and buy a ticket on the cash desk.
More info about Tickets you can find on
Tickets.